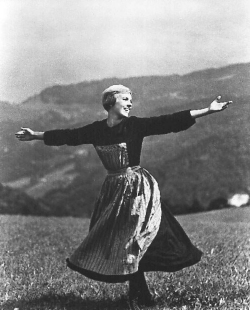 Often I've imagined the Christian life to look a little like ... someone twirling on top of a hill singing 'The hiiiiillls are aliiiiive... with the sound of muuusic...'
I think not.
To 'love God and love your neighbor as yourself' sounds easy if you say it fast...
But to love others is done in the midst of confusion and pain ... it is not a dance on a hill. Immeasurable by degrees of comfort or even happiness, Godly love is grueling work.
How could it be less? Living God's love is
Believing beyond logic
Serving when I'm tired
Giving when its costly
loving our enemies
'Love God and love others' is especially hard to understand as I perceive more and more the suffering in this dark world. This place is steeped in the kind of evil that skins people alive, buys and sells women and children, and abuses their families behind closed doors. This world is full of poverty illness, starvation, jealousy, pride, heartache and tears. ... what is there to love?
It is here, in the middle of frustration and heartache I'm paused to decide - do I believe God is good?
With all this suffering and evil ... is this a contradiction?
Regarding the necessity of suffering, CS Lewis states (in The Problem of Pain),
"Try to exclude the possibility of suffering which the order of nature and the existence of free-wills involve, and you will find that you have excluded life itself".
This video illustrates well the issue of suffering and goodness co-existing:
I believe God is good - not just because the Bible tells me so, but because I've seen His hand in my life. I've experienced a small piece of who He is. Yes, God is good when He gives me the blessings I want (kindness), but in my suffering He is also good.
Examples from my life:
Rejection served to protect me from things and people that would have dragged me away from God. It also served to soften my heart towards others who are rejected. It also opened my heart to receive God's acceptance.
Being imprisoned by fear allowed me to see life is fearful when not submitted to the loving hand of my Father. It allowed me to come to Him for comfort - to be freed. It also, again, gave me compassion for those who are slaves to fear.
Christian life is not a dance on a hill. It is training.
"But God's discipline is always good for us, so that we might share in his holiness.
No discipline is enjoyable while it is happening—it's painful! But afterward there will be
a peaceful harvest of right living for those who are trained in this way."
I'm beginning to understand James' words:
"Dear brothers and sisters, when troubles come your way, consider it an opportunity for great joy. For when your faith is tested, your endurance has a chance to grow. So let it grow! When your endurance is fully developed, you will be perfect and complete needing nothing."
And, to close I would like to share CS Lewis' insight about how everything under heaven DOES serve God's purpose whether it is through good or evil.
"A merciful man aims at his neighbour's good as so does 'God's' will, consciously co-operating with 'the simple good'. A cruel man oppresses his neighbour and so does simple evil. But in doing such evil he is used by God, without his knowledge or consent, to produce the complex good — so that the first man serves God as a son, and the second as a tool. For you will certainly carry out God's purpose, however you act, but it makes a difference to you whether you serve like Judas or like John"
May I serve as a true disciple, one who is trained for holiness.
May I view all suffering as an opportunity for God's power to be displayed.
May I realize my own bent toward evil.
May I repent and rely always on my Father to forgive me, cleanse me, and train me to live with Him forever.
Thank you Jesus, for loving me so much that you would teach and use me even if it means I must suffer.
Thank you for suffering for and with me.